REAL LIFE INTERESTS



In June 2012, Peter sharply reduced his law practice to devote time to many interests that he had neglected in 34 years of practicing law. In 2013 and 2014, he closed the office completely to seriously pursue some of these interests, including training for a marathon, miscellaneous outdoor activities and his long-deferred goal of achieving the title of National Master in chess, before resuming practice in late 20144.

Peter has been playing competitive tournament chess since the 1960s. He has been ranked in the top 10 percentile of rated players in the United States since the United States Chess Federation (USCF) started keeping computerized records. The USCF awarded him the First Category title in 1997. He also wrote a weekly chess column for the Altamont Enterprise that won the Chess Journalists of America 2013 award for Best Regular Newspaper Chess Column, and had previously won two Honorable Mentions in 2012. In June 2013, he competed in his first international tournament; the Icelandic Open, in Reykjavik, Iceland. In the early rounds, he drew one International Master and defeated a second, before losing his last six games.

Peter and his wife Nancy are both active outdoors people. They are both members of the Northeast 111, having climbed all of the 115 peaks in New York and New England over 4000 feet, [Peter No. 465, Nancy No. 472], including the Adirondack 46 [Peter No. 2606, Nancy No. 2311]. They are also members of the Catskill 3500 Club [Peter No. 376, 448W, Nancy No. 1280, 532W].

Peter and Nancy have hiked, climbed and canyoneered throughout the United States. They frequently spend Christmas vacations in the desert southwest, usually at Joshua Tree National Park and two weeks in the Canadian Rockies in August. In 1994, they led a small party to the summit of the Grand Teton in Wyoming. Locally, Peter has led a number of ambitious trips for the Albany Chapter of the Adirondack Mountain Club, including climbs of rarely visited Adirondack slides.
In September 2013, Peter and Nancy went to the Grand Canyon: Peter hiked from the North Rim to the South Rim, and two days later, Peter and Nancy hiked back together to the North Rim on Nancy's 70th birthday.



On the summit of a peak near Assiniboine, in the Canadian Rockies, August 2012


Peter is a competitive runner; usually running in 4 or 5 races per year, including the Mt. Greylock Half-Marathon Trail Race, the Prospect Mountain Run, and the New Scotland Town Run. His most recent race was his local race, the Hairy Gorilla Half-Marathon, on November 1, 2015..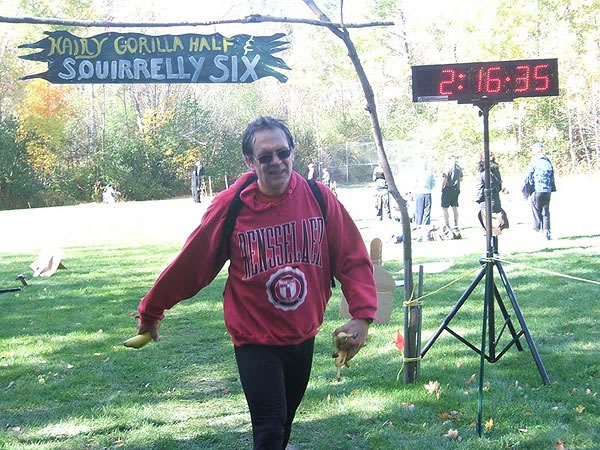 Finish line - 2007 Hairy Gorilla Half-Marathon (note bananas collected in last 1/4 mile)

Karate has been an important part of Peter's background and has helped him develop the attitude and mental discipline necessary to be a successful attorney. Peter was awarded a black belt in Shotokan karate in December 2009 and continues his training in martial arts.